Welcome to DixieRebelFlags.com, home of the Rebel, Dixie and all things Southern.
DixieRebelFlags.com is THE place to be when looking for anything and everything with a southern flair or logo. Whether you are looking for rebel jewelry, confederate flags, towels or tags; Dixie style clothing and Rebel accessories, you will find it here.All items are of high "southern" quality and priced at the rock bottom for you, our customer. All to help you buy with ease and confidence and so you will refer others to our site, DixieRebelFlags.com
So again,Welcome! Come on in and visit for a while. Hope you find what you're looking for. If not, then please contact us and let us know. We'd appreciate your feedback.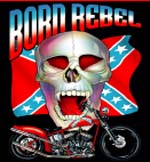 G.R.I.T.S. GRITS GIRLS RAISED IN THE SOUTH LICENSE PLATES plate tag tags auto vehicle car front